So you've bought your first camera and lens and are now wondering what is the best tripod for interior photography?
The purpose of using a tripod for interior photography
In the how to start interior photography post, the foundations were laid as to why your choice of tripod is so important.
Here are five further helpful reasons to help you make the decision on the best tripod for interior architecture photography, as well as a round up of the five best tripod legs and tripod heads available for interior photography today.
Keep your camera position constant
Mounting your camera on a tripod allows you to keep your camera in the same place while you go and make changes to the scene. This is really great if you have something like a CamRanger so you can use live view to walk around your scene and make small changes while your camera stays put.
Image quality
Using a tripod gives you the option of using a lower iso to achieve better image quality as well as slowing your shutter speed to use a higher aperture and get a sharper image.
Having a tripod allows you to eliminate any camera shake when using a longer shutter speed by removing all element of human contact. Using a remote and settings your camera on a timer will ensure your camera is perfectly still when the shutter fires.
HDR for interior photography
Having your camera position set is also great for trying out techniques like photo stacking or HDR, whereby you take multiple images and then use the correct exposure from each to produce the final image.
For a more in depth discussion on HDR and similar techniques please see my lighting for interior photography post.
Using you tripod for low light scenes
We're not always in control of the lighting in a given situation and having a tripod there which allows you to dramatically slow your shutter speed while still keep an aperture which allows you to keep all of the scene sharp is imperative to interior photography.
For certain projects you may need the scene to be dark i.e. if you're shooting a restaurant or a bar which has a dazzling light design you would be required to mount your camera on a tripod to expose correctly for both the dark room and the bright lights.
This also allows you to add movement in your scenes to add a little bit of interest, as discussed in the include people in your shots to add movement post.
Using panoramic images in your interior photography
Mounting your camera on a tripod also gives you the option, if you don't have a lens which is quite wide enough or just if the situation calls for it, to stitch multiple images together and create a panoramic image or combine multiple images to create a scene which is far more detailed, similar to the sensor shift capabilities on many medium format backs.
How to choose a tripod for interior photography
Before getting a tripod it is important to understand that many tripods are unique to a certain style of photography.
In order to get the best tripod for interior photography it's wise to have a little think about which of the following points are most beneficial to you and your style of working.
This video by Nick Page goes over some of the things to consider:
There are a few variables to consider when choosing the best tripod legs for interior architecture photography.
Tripod weight
It's important to get a set of legs which can support at least 1.5 time more than your maximum payload.
This will, in most cases, mean you have to get tripod legs heavier than you had anticipated, which can be counteracted by using legs made of carbon to save on weight.
Tripod height
The maximum height a tripod will go to will differ massively between certain models. I
f possible, get the tallest set you can – this will give you more possibilities if you ever need to go that little bit higher.
It's much easier to get a smaller set of step ladders to get up to the height of your tripod than try and balance your tripod on top of some boxes to try and get that extra bit of height you need (we have all been there).
Tripod toughness
The last thing to look out for is how long your tripod is going to last.
If looked after, a tripod should outlive your photographic career.
So, although it may look like an expensive purchase now, if you balance that out over thirty plus years it suddenly becomes a very small investment.
Best tripod legs for interior photography
With all the above in mind, it's time to have a look at five of the best tripod legs for interior photography:
As well as sporting a really catchy name, this three section, carbon fibre tripod is capable of safely holding 9kg of kit.
Weighing only 2kg with no head, and a closed length of just 60cm it's a great choice if you are looking to travel fast and light while still keep some rigidity and the ability to carry a heavy load.
It doesn't come cheap, at around £400, but for a carbon fibre tripod offering all of the above it's a great purchase.
This tripod is British made and like its name suggests it appears that Winston Churchill had a hand in the robust design.
Weighing just 1.75kg, this is the lightest tripod here and is also capable of holding an insane 40kg, making it one of the strongest carbon fibre tripods in the world.
It features three leg sections capable of extending the tripod up to 185 cm and collapsing down to 60cm, meaning it's incredibly portable too.
One of the best things about this tripod is surprisingly the price. Coming in at under £400, it offers serious bang for your buck.
With a name like "Super Professional", you know this is going to be good!
It is marketed as a studio tripod, which means, not only will it hurt your wallet, it will hurt your back too.
Weighing 9kg and only collapsing down to 105cm, this tripod isn't built for trekking around on a long shoot.
What it is built for is keeping your camera rock solid and it can hold unto 20kg of equipment without breaking a sweat.
The great benefit of this tripod, and where all the weight comes from, is the fact that it can extend all the way unto 267cm with the centre column fully extended so you're probably going to want to purchase a ladder with it too.
Another carbon fibre offering, this time from US company Really Right Stuff.
Weighing just 1926kg and capable of holding 23kg, this is a serious piece of kit.
The drawback of all this weight saving is, even when full extended, you're only going to be 149cm off the ground, so you're probably going to need to lean down to look through the viewfinder if using this one!
Gitzo's series 5 giant offers 6 leg sections capable of extending to 278cm, offering the tallest 6-section carbon fibre tripod on the market today, it can also go all the way down to just 10cm from the ground so gives you a massive amount of creative freedom while still being able to handle 40kg of camera equipment.
This is a heavy tripod. Even in carbon fibre, it still comes in at 3560g and if you're not put off by that then the £1300 price tag may do the trick.
Best tripod head for interior photography
Tripod heads are an integral part of your tripod but can be a confusing area the first time you begin to look into them.
Here's a short introduction into the thee main different types you may comes across:
Pan and tilt tripod head
This is the most common type of tripod you will come across and is also sometimes called a three-way head. It offers movement in both the horizontal and vertical axis via single handles which control the movement.
Ball Head
A ball head differs from a pan and tilt by only having one handle compared to three.
By loosening the handle, you can move the head around in all three axis at once, making it quicker to work with but also a lot less accurate if you're working to a matter of degrees.
Gimbal Head
These are traditionally made for longer lenses to keep the lens stable as it is moved around, but are increasingly being developed for other applications such as panoramas as they allow you to keep the centre of the camera over the top of the tripod.
Now we have a basic understanding of what each kind of tripod head does, let's dive into five of the best tripod heads for interior photography:
The Manfrotto 410 geared head is marketed as a prosumer tripod head, giving you geared adjustments on all three axis, allowing you to get incredibly accurate positioning of your camera through micrometric knobs.
Aluminium construction and the simple size of the quick release plates (RC4) that this head comes with means it isn't the lightest, coming in at 1220g, but for that weight it allows you to "safely" carry up to 5kg of camera equipment.
That's roughly the weight of 3 Canon 1DXs, so unless you're shooting large format it's very doubtful you're ever going to put this tripod head under much stress.
Manfrotto also offers a larger 405 geared head which is squarely aimed at the professional market. It's capable of holding 7.5kg of kit, compared to the 5kg of the 410.
The weight of the head is increased by just shy of 400g to make this possible though, so if you are carrying this round all day, take that into consideration.
It also feels quite a bit more rigid than the 410, probably due to the increase in material size used to manufacture the head.
They both take the RC4 quick release plate to fasten your camera to the tripod, but 405 also has bubble levels on all three axis giving you confidence that your camera is completely level before you start shooting.
The 405 also has slightly redesigned knobs, which also reduce the degree of rotation for each full turn of the handle down from 7.2 degrees to 6.5, so if that 0.7 degrees really matters to you then is the head for you.
If you're looking for the control of a geared head but don't fancy the price tag of the 405 or the 410 then the 460MG 3D may be the tripod head for you.
Coming in at just over £80, this is a great budget entry into a 3 way tripod head.
Cast from magnesium, this tripod head is light, coming in at only 430 grams, but this comes with the drawback that it is only capable of holding 3kg of camera equipment.
It also doesn't offer the fine adjustments which the slightly more expensive heads can give you, so if you're a stickler for getting everything exactly straight in camera you may need to wrestle with this a little bit to get what you want.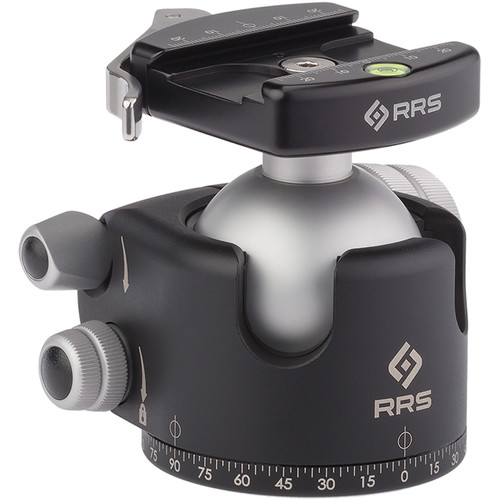 Possibly the best ball head on the market, it does come at a premium price, and, depending on which which setup you want to purchase, can set you back anything between £400 and £600.
For that, you do get you a ball head which is roughly the size of a giant's fist, weighs under a kilogram (depending on which setup you get) and is capable of holding 23kg of kit.
What makes this ball head really great and included on the list is it features a friction knob which allows you to control the amount of friction the head applies to the ball and allows for fairly precise positioning of you camera, without the fear of it sagging when you let go of the ball head.
A panning base also makes it great for getting panoramic shots or stitching together wider shots.
Manufactured from solid aircraft grad aluminium means the head and capable of holding 23kg of camera.
This is the grand-daddy of all architectural interior photography heads and allows unrivalled precision. I
t does this through calibrated, geared mechanisms which are operated by thumb dials on each side of the head which give you control down to single degrees of movement in all directions.
The cube is made with a full metal anodized body and weighs in at just over a kilogram, which depending on which you go for, could be as heavy as your tripod legs.
Being capable of operating with over 40g of camera equipment fitted, this tripod head is never going to let you down.
Hopefully this post on the best tripod for interior photography has proven valuable to you.
If you think there is one which we have missed off or if you have any more suggestions then please leave a comment below.