Those who have read any of my blogs will know that I don't often leave home without a tripod and it's no different when I'm shooting food.
Hopefully this guide will give you a brief idea on why you need a tripod for food photography and which is the best tripod for food photography.
Why you need a tripod for food photography
So, why do you need a tripod for food photography?
First and foremost it help help you take sharper images. If your camera is fixed to a tripod it eliminates any chance of your image being blurry because you're moving around when you take the image.
If you're shooting using natural light, then using a tripod for your food photography gives you the option to lower your iso and use a much slower shutter speed to improve the quality of the image.
It also allows you to go completely hands free when shooting your food photography. You can set your scene and camera up and then make little tweaks as you go on without having to try and get your camera back in exactly the same position.
The scene will look totally different from your eye level and through the camera's viewfinder so being able to make little changes without moving the camera is the key to great food photography.
The final great reason to get your tripod out is to get that gorgeous overhead image we have all seen on our social media feeds. If you want more information on how to achieve that, check out this post here (LINK).
So now we know why we need a tripod for food photography, it's time to look at what to look for in a tripod for food photography.
How to choose a tripod for food photography
Much like choosing your first camera, choosing a tripod can be confusing. They come in a range of sizes and budgets and all have really catchy names like MT055CXPRO.
The best tripod for your food photography is going to come down to which features you feel will improve your photography the most and (most importantly) what your budget is.
Here is what to look for in a tripod for food photography:
1: Maximum payload weight
You need to make sure the tripod you are getting is capable of holding your camera with lens plus any accessories you may want to attach to it.  So take a look at all the gear you have, see how much it weighs and add a couple of kg on just to be safe.
2: Height
Having a tripod with adjustable legs and ideally an adjustable central column is a good idea.  You probably won't always be working at the same height, so having the option to adjust the height of your tripod is important.
3: Adjustable centre column orientation
If you have read the post on how to shoot flat lay food photography you will know that having an adjustable centre column can come in really handy.
Most food photography is either shot from a 45 degree angle or from overhead, so having a tripod which can help you get both without having to buy new equipment is win-win.
4: Spirit level
A spirit level or a bubble level is another great thing to have on a tripod for food photography, it allows you to make sure your image are straight and level before you start shooting
5: Stable feet
Tripods can come with a wide range of different feet types and as food photography is nearly always indoors it means you can probably avoid having to get spikes to stick it into the ground!
A tripod with rubber feet is going to be best for food photography.
6: Stability
Finally and probably most importantly is how stable to tripod is.  
This will help reduce camera shake and keep your camera rock solid. Many tripods also come with a hook attached to the centre column so you can attach a sandbag or some form of weight to the base to make sure it's not going anywhere!
Which is the best tripod to buy for food photography?
There are thousands of tripods available on the market today, many of which will give you good result.
However, it's important to know what to avoid and also consider which features are the most important to you and ultimately your budget.
Do remember, though, your tripod is probably going to last you a very long time – so buy right and buy once.
The best beginner food photography tripod
If you're just starting out and looking for a tripod for food photography, cost will probably be the big factor in your decision making.
I would highly recommend looking at the Manfrotto 055 range.  It features:
A horizontal centre column which is great for shooting flat lay food photography  

A 9kg payload, which is more than enough for holding 90% of food photography setups

Quick lock legs so you're not fighting to tighten your tripod legs while you have your equipment on there

Manfrotto's "Easy Link" attachment which makes attaching a host of accessories to your tripod really easy
The best professional food photography tripod
If you have a little bit more money spare or are looking to upgrade an older tripod, then you can't go wrong with the Manfrotto 058B. It's got a host of features which justify its extra cost:
It's a full metal construction – this tripod will probably outlast your photography career

A geared centre column allows you to make precise adjustments up and down

Each leg can be independently angled and the height can be adjusted all from the centre column, to save you having to adjust each leg individually

A mid-level spreader means that if you accidentally catch one of the legs your tripod isn't going to fall over
The best tripod for flat lay food photography
The simplest way to shoot flat lay food photography, is to get yourself a tripod which has the ability to hold your camera out over the table, such as the Manfrotto 190 series.  
If you already have a tripod but it doesn't have the ability to extend the centre out horizontally then you can get yourself a horizontal arm attachment, like this one from Manfrotto which will give you the ability to get your camera over the top of most tables.
Now, anyone who has already tried this method will know it is super easy, but also comes with a few drawbacks.
The main one is that you are severely limited by the legs on your camera and how close they let you get to the table.
Once you get flush to the table, you also have to be careful you have your tripod either really well balanced or that you have some kind of weights on there to prevent it tipping over (and taking your camera with it).
Using a lighting stand (or two) for overhead food photography
Your second option for getting your camera into position to shoot flat lay food photography is using a lighting stand.
If you already have these lying around, then great. If not, I would really recommend investing in a couple of really good stands.
They may be a little bit more expensive now, but they will last you a lifetime if you look after them well, whereas many of the cheaper eBay offerings will be lucky to last you a year and won't be able to take the weight of your camera.  
A couple that I would recommend and personally use on a daily basis are:
These stands give you the option to use them as a boom arm with the top two sections being placed horizontally as well as using it as a standard light stand.
The great thing about using a light stand like this, instead of a tripod, is that it allows you to get much closer to the table, as the legs are at the bottom of the stand.  
It also allows you to extend your camera much further over the table too, as it has two sections which extend.
Make sure you have a counterweight on the other end of the stand if you are using it in a horizontal position, otherwise have a brush close by to sweep up the bits of your broken camera.
*Little tip – If you have a second lighting stand you can also use that to form a frame by inserting it into the spigot at the end of the boom.
You can then attach a super clamp across the boom arm and attach your tripod head to create a really solid platform to hold your camera.
The second way to use lighting stands is similar to creating the frame above.
Using two standard light stands, attach an avenger grip to each and run an extension arm between the two to give you a solid brace.  
Then, either attach another avenger grip or a super clamp with a spigot attached across the extension arm and you have a great, cheap way to hold your camera solid.
Best tripod head for food photography
Your tripod may have come with a head bundled with it, but if not then you will need to look at which tripod head is going to be best for your food photography.
The most common types of tripod heads used for food photography which you should look at are:
Pan and tilt tripod head
This is the most common type of tripod you will come across and is also sometimes called a three-way head. It offers movement in both the horizontal and vertical axis via single handles which control the movement.
Ball Head
A ball head differs from a pan and tilt by only having one handle compared to three. By loosening the handle, you can move the head around in all three axis at once, making it quicker to work with but also a lot less accurate if you're working to a matter of degrees.
Best pan and tilt tripod head for food photography
The Manfrotto 410 geared head is marketed as a prosumer tripod head, giving you geared adjustments on all three axis, allowing you to get incredibly accurate positioning of your camera through micrometric knobs.
Aluminium construction and the simple size of the quick release plates (RC4) that this head comes with means it is solid but it isn't the lightest, coming in at 1220g, but for that weight it allows you to "safely" carry up to 5kg of camera equipment.
That's roughly the weight of 3 Canon 1DXs, so unless you're shooting large format it's very doubtful you're ever going to put this tripod head under much stress.
Best ball head for food photography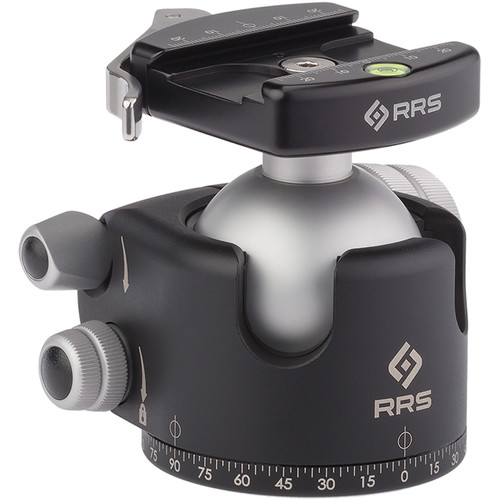 Possibly the best ball head on the market, it does come at a premium price, and, depending on which which setup you want to purchase, can set you back anything between £400 and £600.
For that, you do get you a ball head which is roughly the size of a giant's fist, weighs under a kilogram (depending on which setup you get) and is capable of holding 23kg of kit.
What makes this ball head really great and included on the list is it features a friction knob which allows you to control the amount of friction the head applies to the ball and allows for fairly precise positioning of you camera, without the fear of it sagging when you let go of the ball head.
A panning base also makes it great for getting panoramic shots or stitching together wider shots.
Manufactured from solid aircraft grade aluminium means the head and capable of holding 23kg of camera.
Tripod accessories for food photography
The great thing about most modern tripods is that they allow you to attach a host of accessories which make your job even easier!
If you're using one of the Manfrotto tripods recommended above then they come with a female threaded screw at the top of the legs, which allows you to attach a wide range of compatible Manfrotto accessories.
This is a great attachment for food photography. It attaches to the tripod itself in place of your head and gives you the option to attach two heads and extend quite a way, like a centre column, in order to get overhead shots without compromising the stability of your setup.
If you're shooting overhead shots and don't have the ability to shoot tethered, then using a magic arm and attaching an external monitor to use your camera's live view can be a lifesaver.
It also allows you to add extra rigidity if you are using a centre column by using it to form a connection between your tripod legs and your centre column using a super clamp.
Every photographer should have a few of these in their arsenal.  They come in handy for everything.
If you need props holding in position or a backdrop keeping in a certain position then a magic clamp is your best friend.
If you are mixing your shots between landscape and portrait then an L bracket can be a massive timesaver.
Rather than repositioning your tripod each time and having to check everything is level, this simply clips in and out of your tripod's head and allows you to rotate your camera through ninety degrees.
A few steps before you get your tripod out
It's important to look at a scene before you get your tripod out.  Get the position you want your tripod in sorted before you even clip your camera in.
This way you won't be moving your subject around once you have got your camera in position.
So get your camera out, choose your lens, look at all the angles and height you want to be shooting from and then get your tripod out so you only have to position it once and you can make sure it's nice and steady before you start shooting.
How to make your tripod steady
Using a tripod gives you miles more creative control to use much slower shutter speeds and still ensure your images are pin sharp.
In order to get the best quality, it's important to make sure your tripod is as stable as possible and there are a number of ways to do this.
This handy bit of kit goes in between the legs of your tripod and – as well as holding anything you think you will need for the shoot – can be used to weight your tripod down, making sure it doesn't move if you accidentally catch it.
Sandbag
The humble sandbag is a great accessory to carry round with you and use as a counter weight for your tripod or attach to the bottom of the legs to stop it tipping over.
You can simply stick some rocks in a bag if you're looking to do it on the cheap or there are some more expensive options available which allow you to fill with water and collapse down in between shoots, saving you carrying the weight around.
Is there a certain tripod which you currently use for food photography I have missed off my list which you think is the best tripod for food photography?
If so, pop it in the comments below!